This cozy is made with reclaimed purple suede from a vintage high waisted skirt.
Using the bottom hem of the skirt as the top of the cozy,
I managed to save the original lining to use as the lining for the cozy. No fuss no muss!
The Om symbol is an iron on transfer that I printed out. Around it I stitched on a crochet chain.



I would rate this project a 2 out of 5 in terms of difficulty.
Supplies:
-Favorite canned drink
(to work a pattern off of.)
-Measuring tape
-sewing gauge
-tailor's chalk
-sewing pins
-iron on transfer
-crochet hook
-printer
-sewing machine

1. Measure the circumference of the can and the height of the can.



Measurements for my Cozy


8.25"(Circumference)x 6.75"


2. Add your seam allowance of .5" with your sewing gauge and chalk

new measurements:
8.75"x7.25"

3. Cut a rectangle out of the desired fabric with these measurements.
This will be the body of the cozy.

4. trace around the bottom of your can.

5. draw your seam allowance (half-inch) around the circumference with your sewing gauge.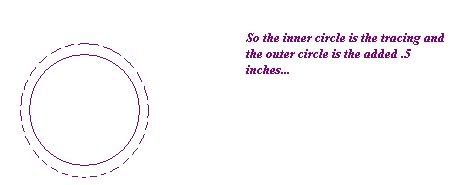 6. Find the image that you want online or in photo albums

7. Reverse the image in a simple online photo editing website,
(My favorite for that would have to be Picnik.com)

8. Print onto iron-on transfer paper.

9. Iron the transfer image onto a piece of scrap t-shirt material.
and cut a small border around the transfer image.
Next, sew the image onto the body of the cozy.
10. Sew up the two sides (right sides together!) to make the cylindrical shape.

11. Flip the fabric tube inside out.


12. Sew around the bottom, right sides together with a half-inch seam allowance. Don't forget to take your time!

13. Take whatever thread, string or yarn you want to use and crochet a chain the length around your image.

14. Sew it on with matching thread and you're done!



C&C always welcome

!